Lately I've thought a lot about dreams.
Dreamers get a lot of crap. Get called naïve, lazy, having the head in the clouds and not being in touch with reality. That last bit is sort of half-true. Being a dreamer, I always see reality as a work in progress. There are always things that need to be changed, added or improved.
I think those who see dreamers in a negative way are non-dreamers that live under two delusions:
1. That everything around us has always been there, and popped into existence unaided, like a virgin birth.
2. That dreamers are lazy slackers that imagine that they can change the world, sleep 'til noon, and get laid (not necessarily in that order) with their poetry/songwriting/interpretive dance/etc, while society have to pay their rent and bar tab.
The non-dreamers seem to forget that lightbulbs, iPhones, pacemakers, democracy, the kingdom of Sweden, space travels and the whoopee cushion all began as a dream in someone's head. Someone took a long walk among their thoughts and saw something no one had ever seen before. Then got haunted by the idea to make the dream become a part of a new reality.
Dreamers have very selective vision, seeing possibilities very clearly, but limitations as some distant, irrelevant blur. 'Unrealistic' is just another word for 'no one has tried hard enough yet'. Dreamers always think outside the box, because they didn't even notice there was a box to begin with (they probably put wheels on it and turned it into an environmentally-friendly vehicle, driven by the waste heat from their optimism). Yes, dreamers do spend a lot of time in their heads, and it may look like laziness, but it enables them to change things. Even change the world. If it weren't for the dreamers we would still sit in trees and ponder how to get some nutritional value from a rock.

You see, dreams are so very important. They are the most important ingredient to make amazing and important things happen. Not only in our world, but also in ourselves. If we don't dream we will have no goal in life, and we will end up doing things for someone else's dreams, and live the life of others. We need the dreams to be free and to fully become ourselves.
Dreams are the seeds that will change both us and the world. But not all by themselves, of course. Nothing can grow without a seed, but a seed will also need help to grow. Fortunately, there is a fairly simple formula for taking even the craziest idea out of the head and into the real world.
The formula is: dreaming + doing + not giving up = new amazing things.
All parts are important. And without doing and keep on trying until we succeed, the dreams will only stay in our heads, and slowly turn sour as they don't become reality. But everything is possible when dreams and action meet. Everything.
No one said it was simple though. As someone who meddles in a bunch of creative areas I'm very familiar with the creative process:
This is awesome
This is tricky
This is shit
I am shit
This might be ok
This is awesome
This is true for all dreams and ideas. There will be self-doubt, there will be naysayers, and there will be obstacles. Things don't go as planned, funds run out, mistakes are made, plans go pear shaped, accidents happen. It's hard. But not the end. We only need to catch our breath, adjust and keep on going. Not give up. Try again. Fail again. Fail better. Make glorious mistakes, because they are valuable lessons, and it is a million times better than doing nothing. And by understanding this process, and keep going, there will be success.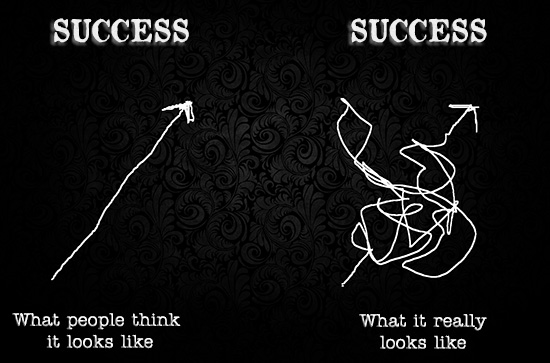 Sometimes it can feel too hard when the obstacles never end, when the problems drain us and our energy runs out, and with it the hope. But all energy and hope returns. Despair is just a feeling. The dream and the possibilities are still there, just harder to see in the fog of exhaustion. Disappointments are just small clouds hiding the light for a short while. They'll pass. Trust the initial belief. Trust your heart. Trust yourself. Get rid of the doubters and the pessimists. Let them crawl back to their branch and suck on that rock, while you take that dream about writing the world's saddest love song/construct a bridge between Africa and Europe so all refugees can walk over safely/making a pizza with 14 kinds of cheese/whatever, and make it happen.
Go on, dream. Bring something to the world that wasn't there before. Change it. Make it bigger and better. Leave your mark.


A longer version of this text, with some cryptic ramblings about my personal life and pictures, can be found at: http://wp.me/p3eS7b-aE